Do you face the problem that standard neutral, warming and refrigerating equipment does not meet you requirements in this or that way?
The important constituent of SIMECO's success is a flexible approach that allows to quickly respond to the client's specific requirements, whether it is a change in design of a series product or development of essentially new equipment. SIMECO can quickly adjust the product to the individual requirements of clients without neglecting the quality and reliability, all that sets our production apart.
We are glad to offer you equipment that has a range of advantages:
Stainless steel of high quality
Accessories by world leading manufacturers (Italy, Germany)
Innovative solutions
Ergonomic construction that facilitates easy service
Large sizes that are limited only by the possibilities of transporting and specifics of the client's placing.
Good example is the detached module with granitic worktop and installed equipment.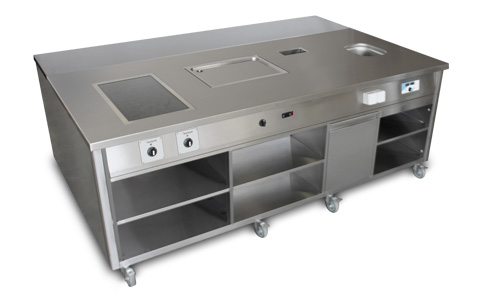 • Steel AISI 304, granite 30 mm
• 1 One welding bowl
• Drawers
• Shelves
• Drop-in: induction grill, induction over, basin for Sous-Vide cooking, connection kit, control panels, electrical panel with sockets
• Dimensions: 2400х1540х900 mm
• 12 wheels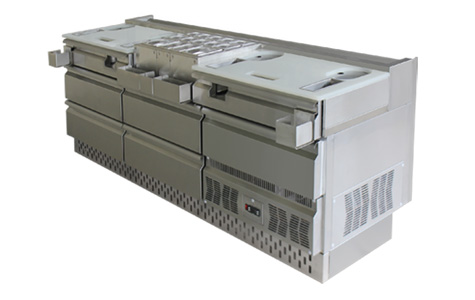 And also a salad bar:
• Steel AISI 304, body AISI 430, polypropylene
• 6 GN 1/9 gastronorm containers; 6 GN 1/12 gastronorm containers
• 4 drawers
• Welded bowl for ice
• Polypropylene board with cutouts
• Unit on the right
• Adjustable feet, 2 reinforced wheels without brake D = 100 mm
• Dimensions: 1000х700х910 mm
• Operating temperature: +2...+8 ºС
• Power — 0,5 kW
• 220 V